Trade shows are hectic contexts in which customers have a reduced amount of time and attention to divide between the proposals they encounter during their visit and exhibitors compete to get some of that time and attention.
To engage as many visitors as possible, it is necessary to focus on the visual and emotional impact. For this reason, your exhibit must be designed with a specific goal: building a defined customer experience to best meet the customer's needs and convey corporate values.
Therefore, the booth is not just a question of aesthetics, but a gradual approach to the company and its products, an opportunity for the "brand building" and to improve company's awareness.
An effective layout and an emotional design are the secret ingredients to attract visitors and turn them into customers. How to do it? Trying to proactive engage them: whether it's signing up to a mailing list or leaving business cards, the booth must instill trust in all visitors.
From colors to lighting, the strategic use of basic design elements is the key to inspire a strong emotional response in attendees.
Define the emotional goal
Define your target: understand your potential customers' needs and how your company can support them. It is very important to develop an emotionally engaging exhibit: "feeling good" makes people willing to commit to a specific product, service or company.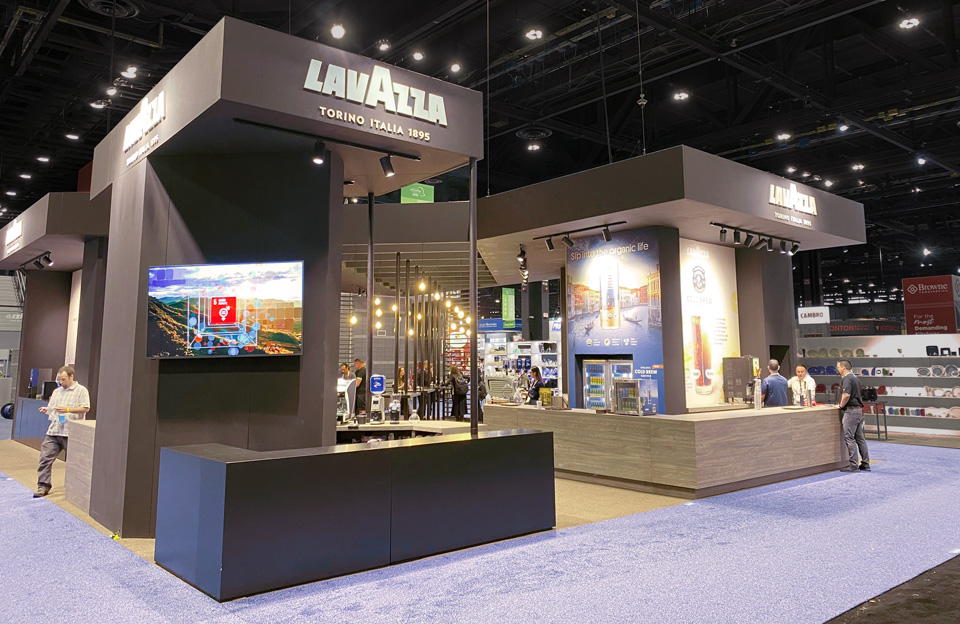 Select the right colors
Color has the ability to influence people's mood and their behavior: this is why companies cannot underestimate this aspect.
Corporate colors can be matched with other eye-catching colors which can highlight some products and let them stand out.
When you design your exhibit is fundamental to select colors according to the desired customer's behavior in order to stimulate attention and interest.
Set the mood with lighting
When you evaluate the success of your trade show booth, lighting plays an important role: it highlights the products, enhances the brand, makes your exhibit immediately recognizable and, by creating the right atmosphere, create a better immersive experience which fully involve potential customers.