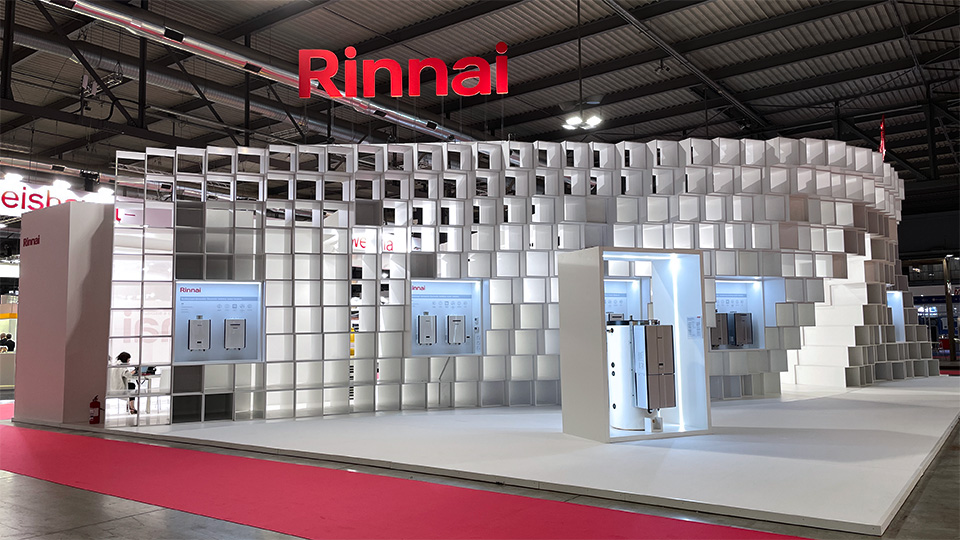 MCE Fiera Milano: An International Stage
The MCE trade fair in Milan is one of the most important international trade show in the energy efficiency and heating sector. This event, which takes place every 2 years, is a point of reference for companies wishing to present their innovations and establish new business contacts in the HVAC industry. Milan, with its strategic position and its long tradition as a location for important trade shows, is the ideal context for this type of event.
The Importance of custom stands at MCE
At MCE trade fair, companies in the HVAC+R, renewable energy, energy efficiency and water sectors have the opportunity to meet new customers and consolidate relationships with professionals.
In a competitive context like that, it is essential to stand out.
Custom exhibition stands are the best way to outshine competitors in a trade show or exhibition. A&M Production specializes in delivering custom stands that reflect the client's vision, brand identity and communicate their message effectively to potential customers. We develop design concepts that are tailored to meet the client's needs for a truly unique trade show experience that aims at leaving customers with an impression that lasts.
A&M Production: a reliable partner for innovative exhibition setups
A&M Production, with its vast experience and its ability to interpret customer needs, has established itself as a reference partner for the creation of high-level exhibition stands. The company, founded in 1975 in Reggio Emilia, located 150 km south of Milan, has gained solid expertise in the sector, working for prestigious brands at an international level.
An emblematic example of A&M Production's work is the custom exhibition stand designed for Rinnai for MCE 2022 in Milan. The project starts from an ambitious idea: a wave breaking on the beach. Let's see it in detail.
An Iconic and Successful Exhibition Project at MCE 2022
For Rinnai, we built a 300sqm stand characterized by a white structure, up to 7 meters high, with geometries perfectly balanced with each other. The product, highlighted by the play of shadows and lights created by the empty cubes, almost seemed to float in the air.
Despite the rigidity of the construction element, the empty part of the cubes performed a double function: give emphasis and softness to the structure and simulate the transparency of water while allowing the passage of light.
This is a perfect example of how an exhibit becomes a real element of storytelling, capable of conveying the value of the brand and emotionally involving the public.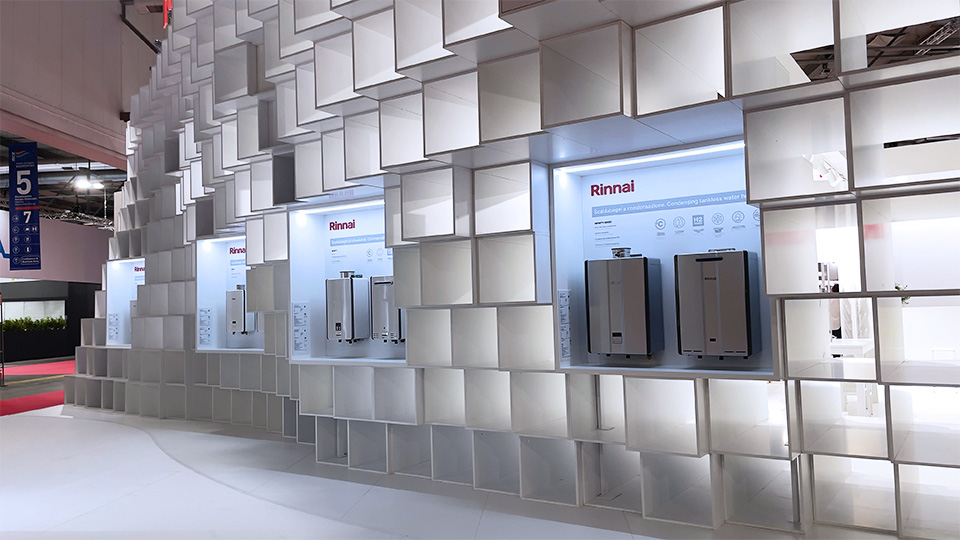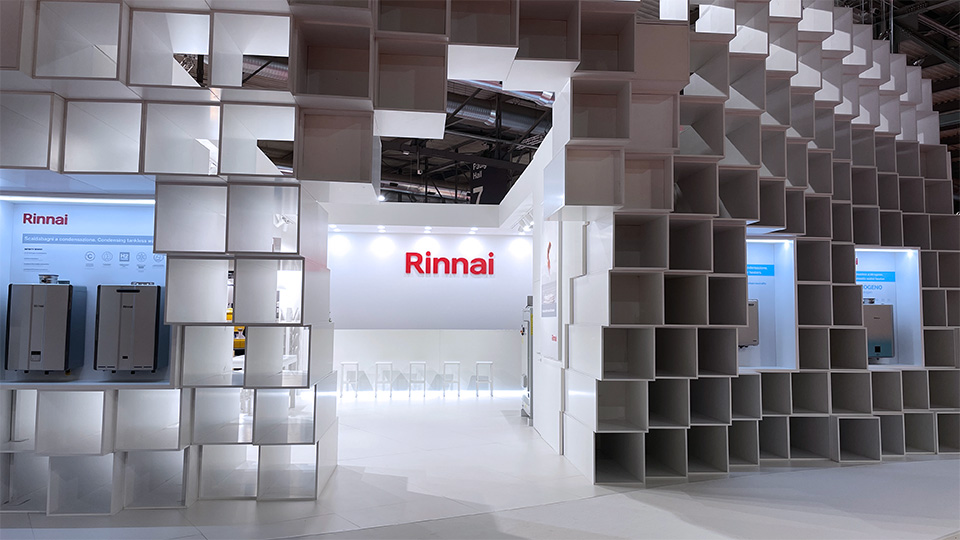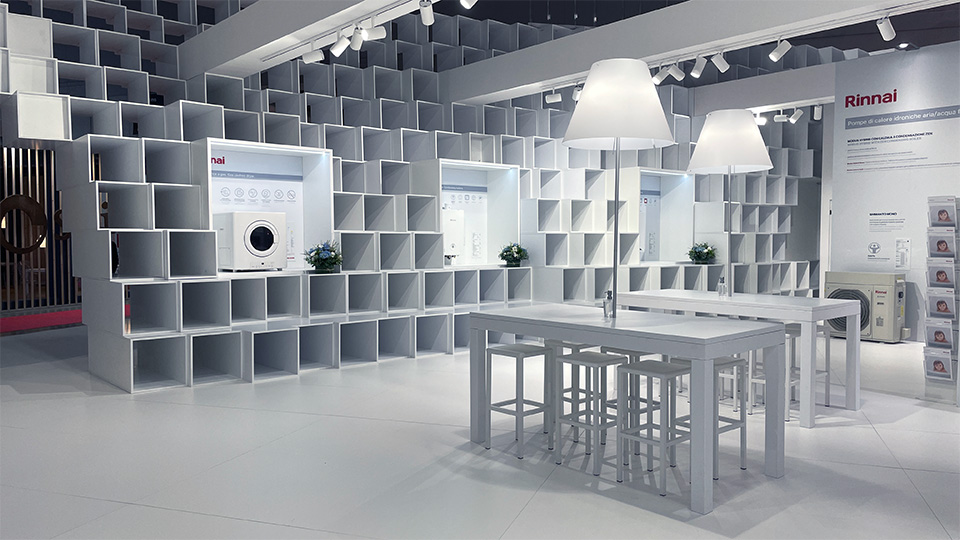 MCE in Milan: the advantages of choosing A&M Production
Choosing A&M Production to set up your stand at the MCE in Milan offers a series of unique advantages, thanks to the all-inclusive services and a holistic approach to the event.
Tailored strategies. We act as an extension of the client's marketing department, offering strategic consultancy to maximize the effectiveness of each event.
High quality production and large inventory of rental. We combine traditional craftsmanship skills with a modern and integrated production system, together with a large rental inventory. Our consolidated project management ensures perfect control over guaranteeing the final quality of the setup in all the markets in which it operates.
Logistics and Assistance. We manage all logistics operations, including air transport. Furthermore, we take care of the whole paperwork process such as forms, licenses and service requests, managing communication with show executives and other associations involved.
Contact A&M Production for your stand at the MCE fair in Milan
Choosing A&M Production to set up your custom exhibition stand at the MCE trade fair in Milan means relying on a team of professionals capable of interpreting the customer's needs and translating them into concrete and innovative solutions.
If you are planning to participate in the next edition of the MCE in Milan and want your stand to be an authentic emblem of your brand, contact us and maximize your impact during the event.