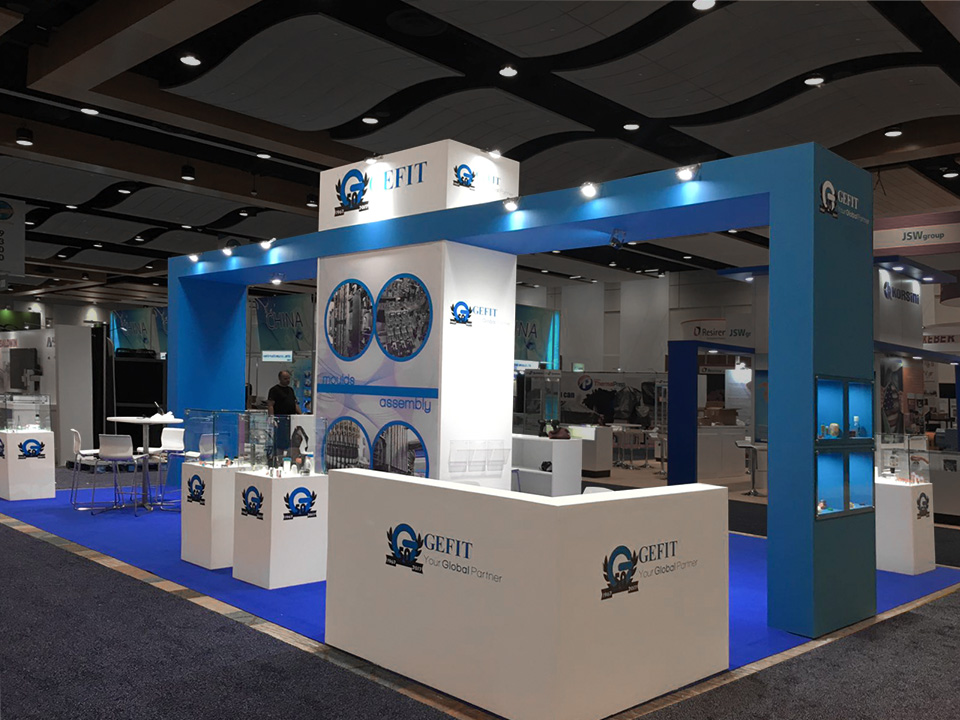 NPE is one of the world's largest trade fairs for plastics and plastics technology. It covers the entire spectrum of the plastics industry: from raw materials and additives for the plastics manufacturing, plastics processing machines to plastic semi-finished and finished products.
This makes NPE a must event for companies in the plastics industry, that want to get information about new products and developments. Attracting attendees from over 110 countries, NPE is the largest plastics trade show in the America's and your single source destination for every segment of the supply chain.
With its strategic location in Europe, Italy and two facilities the U.S, in Atlanta and in Las Vegas, A&M Production understands the importance of making a bold statement in such a competitive landscape and works closely with clients to bring their brand vision to life.
Unlocking New Business Opportunities
The NPE trade show is renowned for the countless business opportunities it offers. With a diverse range of companies and professionals attending, this event serves as a melting pot of innovation, networking, and collaboration. With its impressive size and reputation, it attracts companies and professionals from all around the world. This event is the perfect platform to showcase your products, explore innovative technologies, and establish a strong presence in the industry.
Getting your business noticed at trade shows requires strategic planning and the implementation of engaging brand engagement avenues. By carefully planning your booth design and activities, and by leveraging various channels for brand engagement, you can effectively capture the attention of attendees and leave a lasting impression. To prepare, engage, and stand out at your next trade show to unlock new business opportunities and achieve your goals rely on A&M Production.
Our extensive experience in American trade shows provides them with an in-depth understanding of the unique requirements and nuances of these events.
Adequate Planning: The Pathway to Success
A well-planned strategy is crucial when participating in large-scale events like the NPE trade show.
Navigating the American trade show landscape can be complex, with each event having its own set of rules, regulations, and paperwork.
Managing labor and navigating jurisdictional requirements can be a daunting task, especially for international exhibitors. A&M Production has developed a strong expertise in these areas, having worked with local labor unions and jurisdictional authorities across numerous American trade shows.
We understand the criticality of adequate preparation in order to maximize your presence at the NPE. We will work closely with you to understand your objectives, strategize your booth layout, and create a timeline that ensures everything is executed flawlessly. With our expertise by your side, you can approach the event with confidence and peace of mind.
A Stand Designed to Captivate
In a bustling trade fair with numerous companies competing for attention, having a stand that captivates the audience can make all the difference. It should convey your brand message, and exhibit a visual representation of your products or services in a way that immediately captures the visitor's attention.
A well-designed exhibition stand can help attract visitors to your brand, and an engaging display can create a positive and long-lasting impression on them.
Your exhibition stand's design should prioritize your customer's experience. Creating an engaging customer experience is not only about creating an aesthetically impressive stand, but also about creating an environment that is both interactive and informative. It's essential to invest in a stand that's easy to navigate and well-organized, allowing visitors to move around and explore your products or services seamlessly.
A&M Production excels at creating visually stunning and impactful stands that will grab the attention of attendees. Through expert design, innovative signage, and attention to detail, we will bring your brand to life, ensuring that your stand becomes a magnet for potential partners, customers, and investors.
Partnering with A&M Production: Setting the Stage for Success
We have been a trusted name in the American trade show industry for over four decades. Our extensive experience in designing and building stands for various trade shows, including the NPE, has made us experts in these international events.
What sets us apart from other stand builders is our commitment to excellence and customer satisfaction. We work closely with our clients, investing time and effort to understand their brand identity, target audience, and goals for the trade show. Armed with this knowledge, we design and build a stand that effectively communicates our client's message, while also reflecting their brand's aesthetics and values.
Partnering with us for the NPE trade show is a smart choice. With our extensive experience, proven track record, and international expertise, we are the ideal stand builder to bring your brand to life on the trade show floor. Contact us.