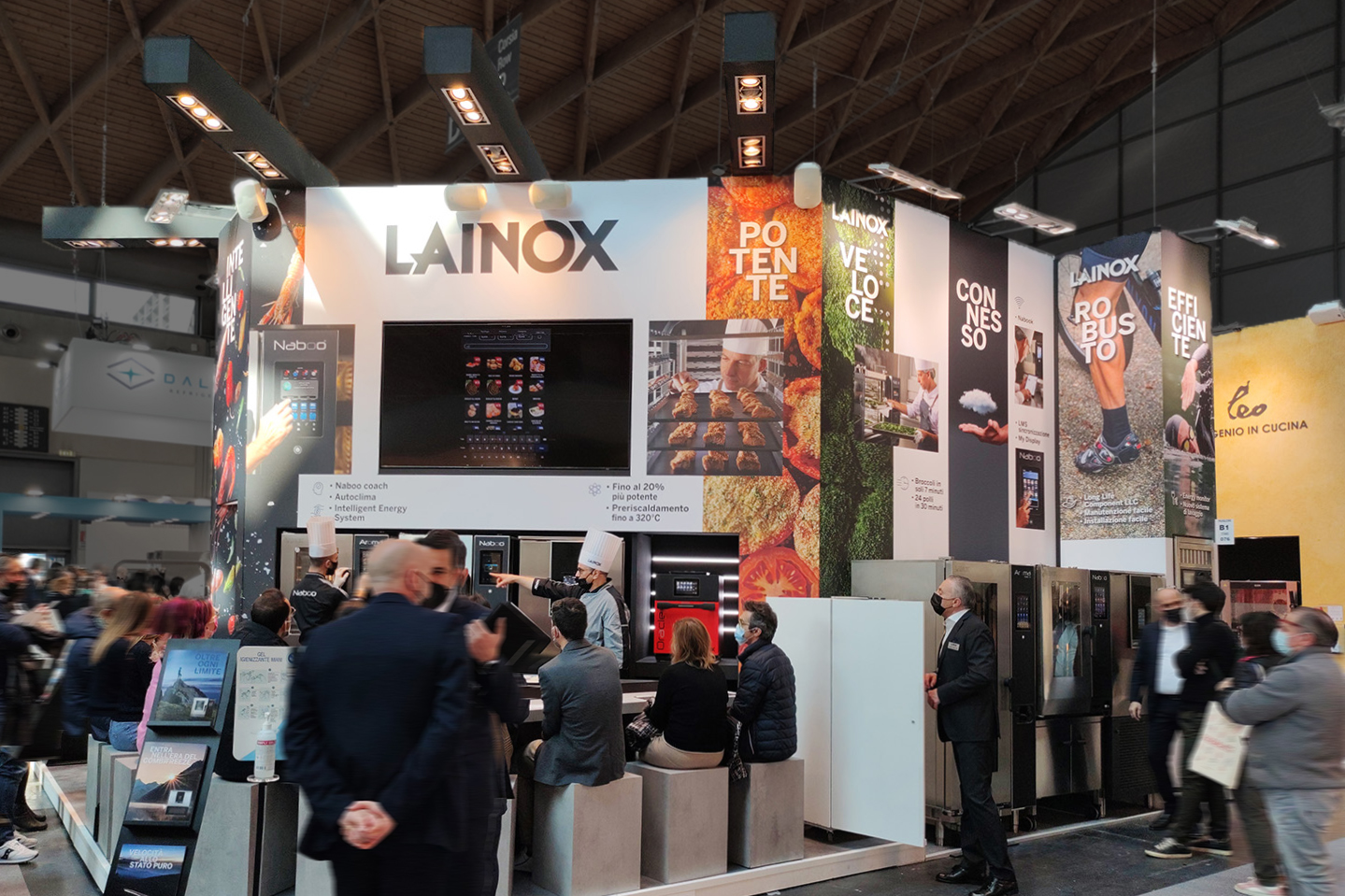 A&M Production: your exhibition partner for trade fairs in Rimini
In the world of trade shows, finding the perfect partner to showcase your brand and products is crucial. With more than 45 years of experience, A&M Production stands out as the ideal partner at Rimini trade shows, offering high-quality custom exhibition stands and a commitment to satisfying customer needs.
Located in Reggio Emilia, Italy, we benefit from our strategic location in the heart of the country. This central location allows for easy access to major trade fair venues, including Rimini. Being headquartered in Reggio Emilia give us a strong presence in the Italian market and enable us to effectively serve clients across various industries and sectors.
Strategic Planning for Successful Exhibition Set-Up in Rimini: The First Step Toward Success with A&M Production
Every brand has different goals when it comes to attending trade fairs and events, especially if those goals are part of a broader marketing strategy. A&M Production understands the importance of strategic planning to achieve effective results. Before starting with the first design phase, our team of professionals immerses themselves in an in-depth study of the brand, its identity and specific objectives. This customized approach allows us to create tailor-made exhibition display solutions, which effectively communicate the brand message and capture the attention of the target audience.
We are specialized in creating engaging and experiential exhibition stands in Rimini. Thanks to all our partnerships and a consolidated supply chain we are able to provide all kinds of exhibition services and technologies. This allows us to propose all kinds of exhibition designs removing every limits to our designers and architects creativity. Every detail is carefully considered to ensure that visitors are engaged and leave the exhibition with a positive impression of the brand. Our philosophy is to impress visitors.
A&M Production: Many Years of Experience in Exhibition at Rimini Trade Show Exhibits
Exhibiting at trade fairs has become an integral part of marketing strategies for many businesses. It offers a unique opportunity for companies to showcase their products or services, build brand awareness, generate leads, and network with industry professionals. However, participating in trade fairs requires careful planning, meticulous execution, and a deep understanding of the dynamics of such events. This is where A&M Production steps in to provide their invaluable expertise and support.
Our team of highly skilled professionals works closely with clients to understand their goals, target audience, and brand identity. We then design and create custom exhibition stands that not only capture attention but also effectively communicate the company's message. We understand that a well-designed stand can make all the difference in attracting visitors and standing out among the competition.
Why Choose A&M Production For Your Stand In Rimini
With over 45 years of international experience in the exhibition stand building, we position ourselves as a trusted company, capable of offering high quality exhibition solutions in Rimini and throughout the world. Whether the client is looking for a custom design for a single exhibition stand or needs to plan an entire program of events, we are able to satisfy these needs thanks to our extensive experience.
Don't let your participation in Rimini go unnoticed! Choose us as your trusted partner and transform your next exhibition stand in Rimini into an unforgettable experience for your target audience.
Have a look at our portfolio and contact us today.