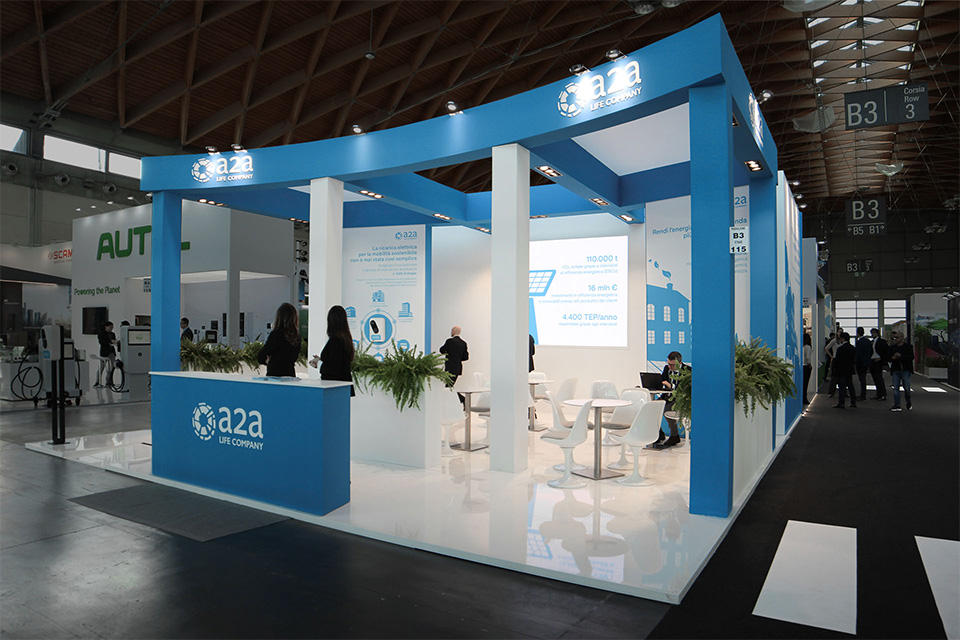 Every year, a lot of international trade fairs take place at Rimini Exhibition center, which hosts numerous exhibitions, conferences and other events. Among these, Key Energy trade fair, the international exhibition and conference showcasing technologies, services and integrated solutions that promote and accelerate the transition towards a greener future.
The event is the point of reference for companies that wish to present their innovations or establish new business contacts.
When it comes to participating at Key Energy, companies not only want to make a lasting impression but also ensure that their presence is well-executed and hassle-free. That's where A&M Production comes in – a leading provider of comprehensive exhibition solutions, catering to the diverse needs of businesses participating in the Key Energy trade fair in Rimini.
A&M Production: The Trusted Partner for Trade Fair Stands at Key Energy in Rimini
Trade fairs abroad can be overwhelming for companies, especially those new to the event. A&M Production acts as a guiding hand, providing companies with comprehensive support throughout the exhibition process.
Founded in 1975 in Reggio Emilia, we began setting up exhibition stands in Rimini in our early years, working for prestigious brands at an international level.
We had the opportunity to successfully manage the challenges of an event like Key Energy, offering our customers innovative solutions that reflect the brand's identity and capture the public's attention.
If you wish to participate in the next edition of Key Energy, we offer an all-inclusive service, taking care of every aspect of the project, from strategy to implementation, without neglecting any detail. This approach allows us to create exhibition stands that not only respond to the specific needs of the customer, but which stand out strongly in the lively and dynamic context of an international trade fair like Key Energy.
This impeccable result is achieved through a process that develops in different phases, each of which is fundamental to achieving the objective set with the customer.
Let's see some of them.
Design
We believe that a well-designed exhibition stand is the cornerstone of a successful trade fair presence. Our team of skilled architects and designers works closely with our clients to understand their brand identity, goals, and vision, and then transforms their ideas into stunning exhibition designs. With meticulous attention to detail and a keen eye for aesthetics, we create custom-designed stands that not only stand out but also effectively communicate our clients' messaging.
Unveiling the Art of Fabrication at our Headquarters in Reggio Emilia
Our headquarter in Reggio Emilia serve as a true testament to our commitment to excellence in fabrication.
Fabrication is the backbone of our operation. It is through this process that we transform raw materials into exquisite pieces that captivate the imagination. Whether it's custom-made furniture or cutting-edge architectural structures, our fabrication team possesses the necessary skills to make even the most complex ideas a reality.
Installation
Once the design is finalized and the fabrication completed, our installation team takes charge of setting up the stand on-site at the Key Energy trade fair in Rimini. We handle every aspect of the installation process, ensuring that all elements are seamlessly put together. From building and construction to audio-visual setups and lighting arrangements, our team is equipped to handle it all, delivering a professionally executed exhibition stand that captivates attendees.
Logistics
We understand that managing logistics can be a logistical nightmare for businesses participating in trade shows. That's why we offer end-to-end logistics support to our clients. From transportation and storage to on-site coordination with event organizers and timely delivery of materials, we take care of the logistics, allowing our clients to focus on their core business.
Supporting Customers in Show Forms
Navigating through the paperwork and legal requirements associated with exhibitions can be overwhelming. At A&M Production, we understand this challenge and aim to simplify the process for our clients. Our team is well-versed in handling the necessary forms and licenses required for exhibiting at different events and venues.
We stay up-to-date with local regulations across various countries to ensure a smooth and hassle-free experience for our clients.
Additionally, we provide assistance and support for any service requests you may have during the exhibition. From electrical and internet connections to on-site support and maintenance, our team will proactively address your needs, allowing you to focus on engaging with visitors and promoting your brand.
All-Inclusive Exhibition Services: The Key to Successful Showcasing at Key Energy
Planning and executing a successful exhibition requires comprehensive coordination and management of various elements, from design and logistics to set-up and dismantling. We understand the complexity involved in organizing an exhibition and strive to provide all-inclusive services that cover every aspect of your event. From the initial design to the final dismantling, our dedicated team will handle all the necessary tasks, allowing you to focus on your core business.
Here you have some of our best exhibition stands designed and built at Key Energy in Rimini!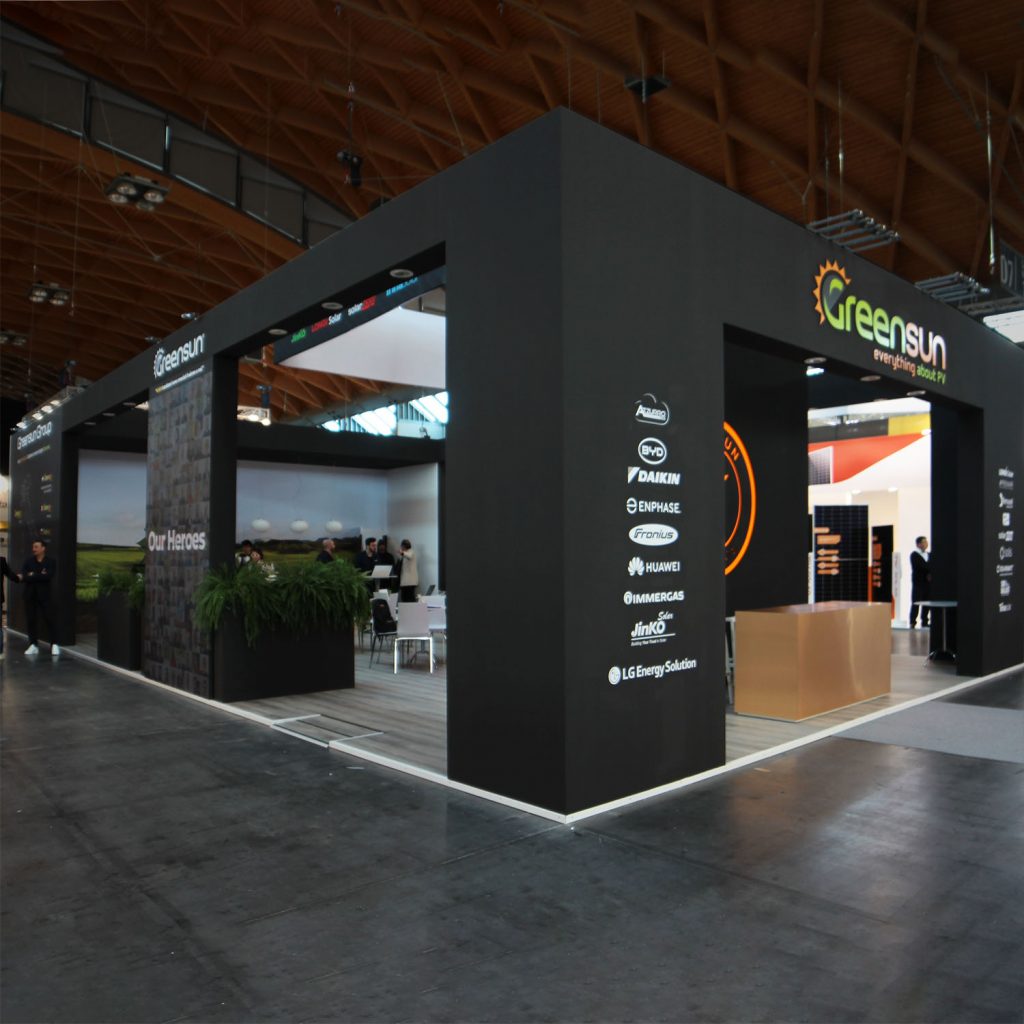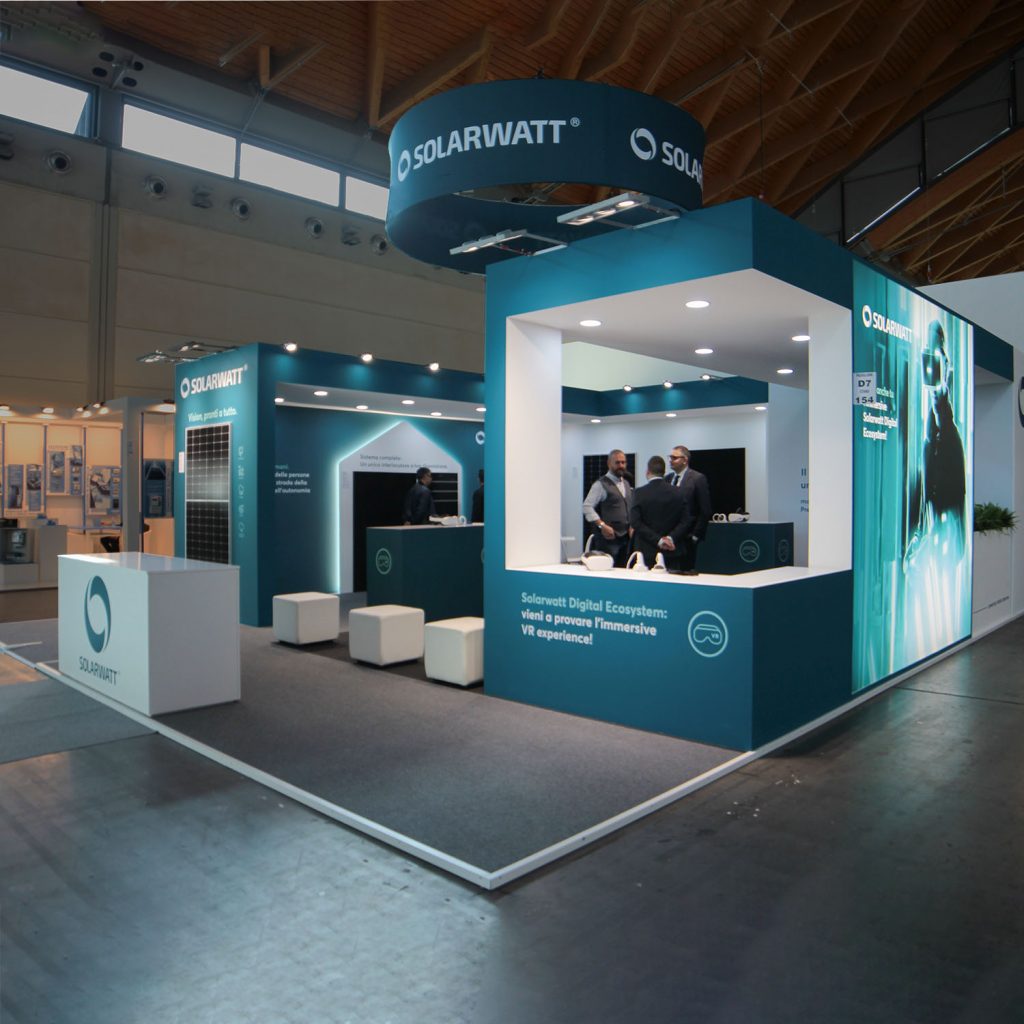 Choosing A&M Production means choosing a stress-free trade fair experience. Our commitment to providing a comprehensive service ensures that our clients can focus on networking, engaging with potential customers, and maximizing their ROI.
So, whether you're a small start-up or an established company, trust us to elevate your presence at the Key Energy trade show in Rimini. From design to installation, logistics to dismantle, we are your dedicated partner, committed to delivering exceptional results.
Invest in an all-inclusive service that sets you apart from the competition. Contact us today.