When you think about a trade show, the first thing that comes to mind is the booth, the meeting point between visitors, customers and the company throughout the event.
Creativity, functionality and the best layout are elements that find their maximum expression in customized exhibits.
How do you design a custom exhibit? What's possible when it comes to fabrication?
Since 1975 we have been guiding our customers through the entire process, accompanying them step by step from design to installation, delivering a customized turnkey booth.
Design
Every great custom exhibit starts by understanding client's challenges and goals.
Some clients approach us with concrete goals like increasing sales or strengthening their brand awareness, others are more focused on products or on the possibilities their exhibit can bring.
Once goals have been defined, we dig into finding the best trade show for the client's company, competitors, strengths and opportunities to highlight during the event.
With these information we built out the concept, the best design and the communication strategy for the client's products and services.
Through the design stage, clients will work with our design team who create also 3D renderings to help visualize what thier exhibit will look like.
Every aspect is discussed in great detail to make sure everything is perfect before we start fabrication.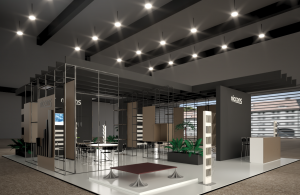 Fabrication
Once the custom exhibit design is finalized, our expert artisans and carpenters translate the renderings into breath-taking physical installations.
Thanks to their experience, they take into consideration every technical detail and study customized solutions for the client's needs during the trade show.
Our international presence in Europe and in the United States, in Atlanta and Las Vegas, allow us to offer the Italian renowned quality with a quicker turnaround time and lower costs.
The choice of materials, finishings, custom lighting and multimedia help create a unique customer experience.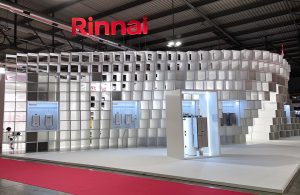 Installation
Finding trusted, trained exhibit partner and installers is a challenge for many companies.
Our clients make significant investments in their exhibits: our more than 45 years of experience on the market together with the trust of our clients represent the guarantee that their exhibit is carefully packed, shipped, delivered and then stored in the best way, so that it can be used for next trade shows.
We have also developed a deep knowledge of the international permissions and rules, which is a sensitive matter in the trade show business, always in compliance with even the strictest local rules and regulations.
The variety of the works we have performed, have allowed us to provide a range of services that span from general carpentry to more specialized tasks such as install and lay ceramic tile.
How far can we go to create your custom exhibit? There are no limits of height and size, we have created exhibits up to 7 meters high and areas of more than 16000 sqft.
The goal is to create a unforgettable exhibition area, which can impress visitors' minds even after their visit.
Now that you understand the custom exhibit design process, it's time to start thinking about what your future exhibit could look like. Check out our portfolio for inspiration!