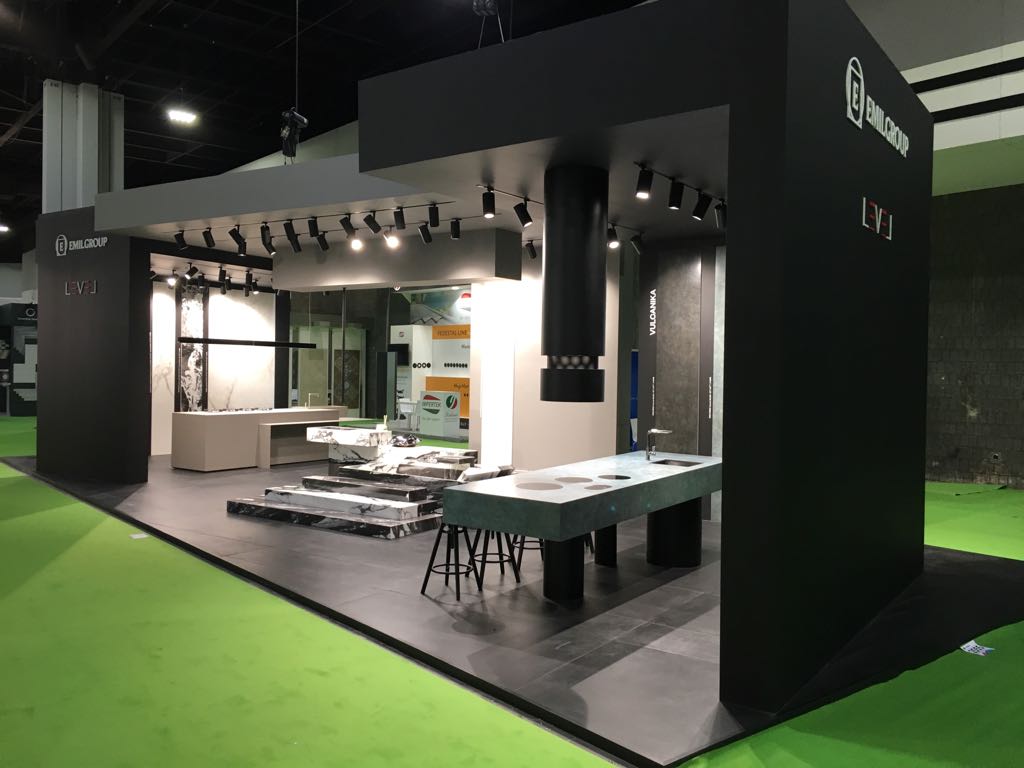 Your custom trade show exhibit at Modex with A&M Production
As the speed of manufacturing and supply chain operations continues to accelerate, building a more agile, efficient, and transparent supply chain depends on today's forward-thinking decisions. Modex trade show brings together the entire industry together to provide end-to-end solutions for your operations.
Participating at Modex trade show is a great opportunity for any company supply chain industry. But in order to truly succeed at Modex, exhibitors must ensure that their booth stands out among the crowd. That's where A&M Production comes in.
A&M Production is a leading provider of highly custom trade show exhibits, specializing in creating engaging experiences for their clients. We understand that a well-designed booth is not just about aesthetics, but also about effectively communicating a company's brand and message to attendees. With our main US facility located in Atlanta, we are the go-to choice for exhibitors at Modex.
The importance of custom exhibits at Modex
Having a well-designed and well-appointed stand is essential to distinguish yourself from the competition and capture the interest of visitors. The Modex trade show offers a unique opportunity to showcase your products and it takes place only every 2 years, making it an even more special occasion where all exhibitors want to stand out. An attractive design, a functional layout and an inviting environment can make all the difference in generating interest and creating a memorable experience for visitors.
One of the key advantages of working with A&M Production is our adequate planning process. We take the time to understand the goals and objectives of our clients, allowing them to create tailor-made solutions that leave a lasting impression. From conceptualization to execution, we ensure that every aspect of the booth is meticulously planned, maximizing the impact on potential customers.
Moreover, our in-depth knowledge of the American market gives us a competitive edge. Understanding the preferences and expectations of American trade show attendees allow us to design exhibition stands that effectively attract and engage the target audience. We are well-versed in creating immersive experiences, utilizing cutting-edge technology and interactive elements to captivate visitors and create memorable interactions.
The advantages of a custom trade show booth at Modex
An event with an international scope requires months of strategic planning, with a long preparation phase, in order to achieve a result that can amaze visitors. Let's find out what the advantages are for creating a customized stand for at Modex trade show.
Maximum visibility
With a customized booth, you can maximize the visibility of your brand and products. A unique and distinctive design helps you stand out among other displays and capture visitors' attention from the first glance.
Effective communication
An important feature of customized stands is the ability to effectively communicate the message. Visual elements, such as custom graphics, digital screens and information panels, can be used to clearly and directly convey what the company offers.
Immersive experience
With a customized booth, you can create an engaging experience for your visitors. You can integrate interactive elements, such as product demos, trial sessions or live presentations, to actively engage your audience and generate lasting interest in your company.
Flexibility and adaptability
A company specializing in exhibition stands can create customized solutions based on each specific need. You can choose from a wide range of materials, configurations and layouts to create a stand that fits your brand and products perfectly.
Reusability
A customized booth can be designed to be reused at different trade shows and events. This allows you to maximize the value of your investment and reduce long-term costs.
Here you have some of our best trade show builds performed in Atlanta: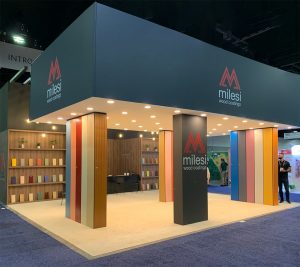 Modex stand installation: guaranteed success with A&M Production
When it comes to exhibit displays project management and installation, partnering with A&M Production guarantees success. Our commitment to exceptional craftsmanship, understanding of local labor and jurisdiction, knowledge of the American market, and expertise in designing stands for American trade show audiences sets us apart from the competition. With us by your side, you can be confident that your exhibit will capture attention, engage attendees, and create a memorable experience at Modex.